Dahti Blanchard
Dahti Blanchard's Books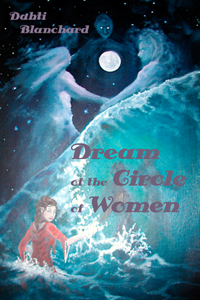 Dream of the Circle of Women
Read chapter one.
Some lovely reviews:
"…Blanchard manages to completely enrapture the reader, all the while deftly examining irrational taboos of our society and laying them to rest. …the entire tale makes the reader want to jump up and shout "Yes!" This is the way life should be, and Dahti Blanchard points the way. DREAM is a masterpiece for readers of any age group. Well done, and more…please!
Shelley Glodowski, Senior Reviewer
Midwest Book Review
"I loved it! It's a fine story. Engaging plot, loveable characters, and the scenes when Kat opens herself to her gift of healing touch are powerful and moving. Keeps the reader turning pages."
Elizabeth Cunningham
author of Return of the Goddess ; The Wild Mother and
How To Spin Gold: A Woman's Tale
"Well-written… The witch house is the sort of property many of us would dream of inheriting, the family history intriguingly mysterious, and the love interest—bless him—someone a modern self-respecting woman could fall for without feeling like a hormone-driven nitwit. Very good rousing ending."
Elizabeth Ann Scarborough
Nebula Award Winner
"A tale of sisterhood, magic lore and love. It will grab your interest and your heart and won't let go until you are finished reading this fabulous book."
Gail Wood
Librarian and author of Rituals of the Dark Moon: 23 Lunar Rites for
a Magical Path
"…interesting characters and an intriguing subject. It is the kind of cozy novel to read in the summer on the porch swing or in the winter curled up before a fireplace."
Jeannine Van Eperen of
Blether - The Book Review Site
"I enjoyed this book immensely and give it my strongest recommendation. Buy it. Read it. You'll love it."
Andrius of
The Unicorn
"…kept me holding my breath and turning the pages. This is the kind of book you read at stoplights. The descriptions of the land and place are evocative, the people so real that I felt transported there with them."
Jennifer Blomgren
Author of Where Do I Sleep? and
Where Would I Be In an Evergreen Tree?
"By skillfully combining the best elements of several genres, Dahti Blanchard's new novel is a good read that defies simple categorization. There is a mysterious old house hiding secrets of its former occupants that will satisfy the lovers of gothic novels. There are witches and herb craft for those who enjoy a touch of the supernatural as in Nora Roberts' Three Sisters Island Trilogy. There are feminist and lesbian issues to appeal to those who read "women's" fiction. For animal lovers there are cats and dogs and horses. And, for librarians, there is a mensch of a library director whom we can all love. If you like an interesting story, be sure to give this one a try. You'll be glad you did."
Linnea Patrick
Retired Librarian
"…this is for the person looking for something beyond the typical book club books. It is a book that is appealing to so many people in such diverse ways. An enjoyable debut novel that is appropriate for a book discussion group, a vaction read or a rainy weekend."
Genevieve Gibson
Bookstore associate and book afficiando
"Well-written and lyrically told, this feminist gothic has everything a grown-up woman could want—a strong sense of identity, a heroine who's seen 40 and plenty of hard times and hasn't fallen apart, a current mystery tied to an historical mystery, lots of suspense, a few real witches, a discovery of a secret talent, herb lore, a tender heart or two, and a love interest who's intelligent and worth the wait."
Lorna Tedder
Author of Flying By Night , Access , and Witch Moon Waning
"This book hooked me early and held me to the exciting end. Lots of intrigue… The characters are very real. I had a sense that I could drive to upstate New York, right into that small town and I'd know somebody there. Great house. Plenty of mystique. A delightful read."
Janet Fisher
Author and Pacific Northwest Writers Association member
"This book made me want to sit outside in my garden and smell the flowers."
Terri Paajanen
About.com

---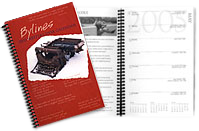 http://www.bylinescalendar.com Bylines Writer's Calendar - an inspirational daytimer by, for and about writers
This is a wonderful desk calendar for writers (and readers). Each week features an author—her or his picture, bio and a short essay. My 2005 Bylines calendar went everywhere with me. And that would have been true even if I weren't (as my daughter dubbed me) Ms. Second Week of April 2005.
© 2008 Dahti Blanchard
Design by Panharmonicon